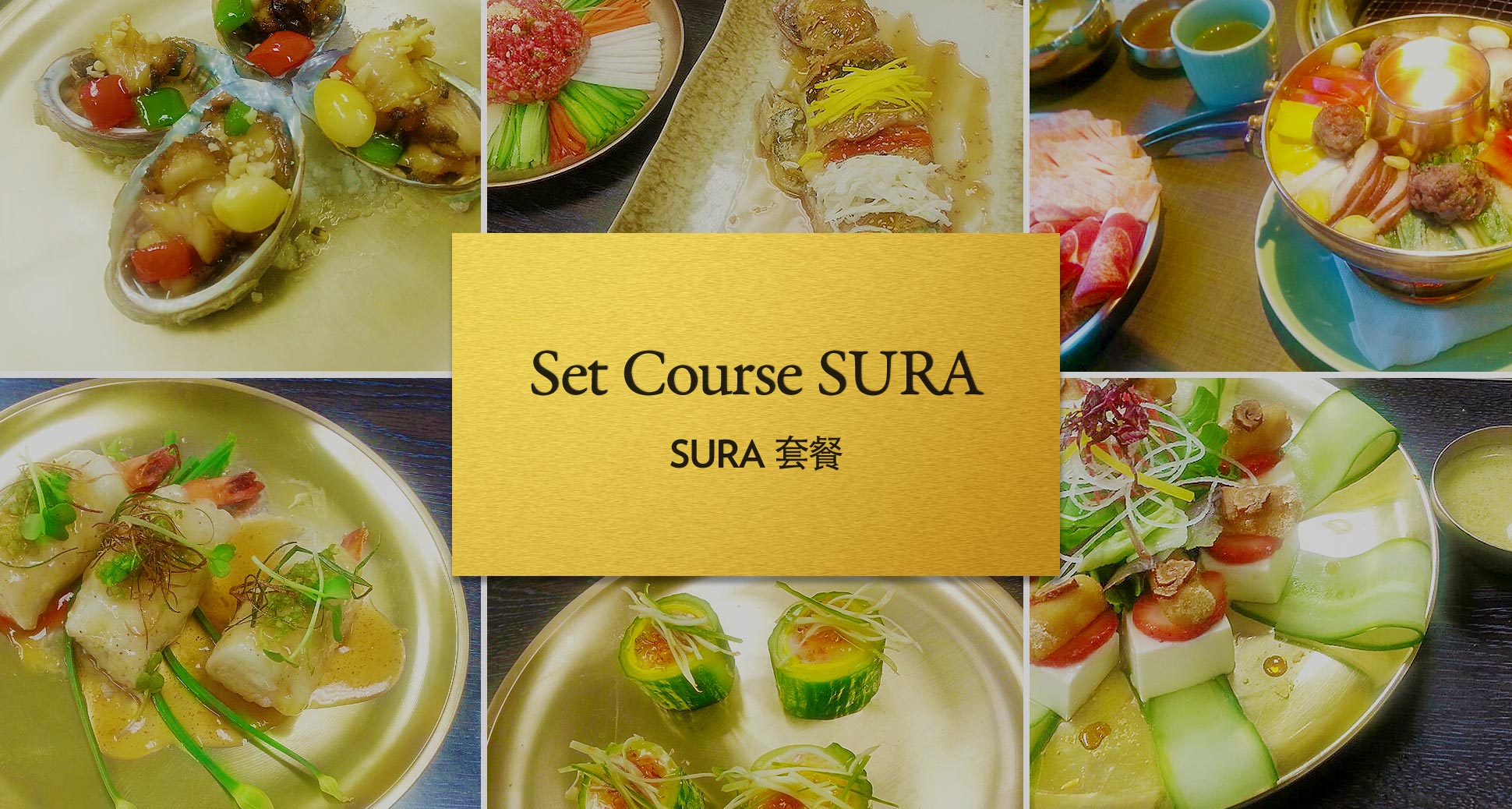 Set course SURA: truth to the core of glorious korean royal court cuisine
Even if you are already a fan of various Korean foods, such as traditional barbecue dishes like Galbi, the popular Bibim-bap and comforting hearty soups; you may wonder what Korean Royal Court Cuisine really is.
Click here to view the Set Course SURA on our menu page.
Korean Royal Court Cuisine — the cookery style within Korean cuisine from Joseon Dynasty, which ruled Korea from 1392 to 1910 — has long been recognized as an important part of Korean cultural heritage.
Thanks to Hwang Hye-seong, the government-designated Human Cultural Property of Korean Royal Court Cuisine, who spent the last couple of decades being the ambassador of the Royal Cuisine at home and abroad; various activities propagating the royal art of cooking have been carried out towards securing the cuisine's presence in Korean modern culture: cookbooks, cookery lessons, and events & exhibitions.
She has also set up the restaurant and tea-room, named Ji-hwa-ja, which gives the public an opportunity to enjoy Korean Royal Court Cuisine. And the restaurant's confectionery and snacks are also available at selected leading department stores.
Understandably enough though, despite its unquestionable recognition by the scholars, Korean Royal Court Cuisine used to be relatively unknown among young Koreans. Well, no more. Thanks to the popularity of various Korean TV shows such as Daejanggeum (Jewel In The Palace); the cookery style now enjoys nationwide adoration, and the public's desire to savour the royal dishes is all-time high.
Many prestige department stores in Seoul Korea regularly organize mini-exhibitions of the cuisine. And it's not rare to witness much grander exhibitions of royal confectionery at Deok-su-gung Palace, a walled compound of royal palaces in Seoul. Even, ready-made food items with the royal theme have shown up on the shelves of up-scale supermarkets and become available via mail order.
At SURA, we're extremely pleased to offer our outstanding customers with this spectacular nature: view the menu here.
Set Course SURA, the sophisticated yet simply delightful set course will give good people in Metro Vancouver and the visitors alike a fantastic opportunity to explore the authentic Korean Royal Cuisine and its established tradition in Korean modern culture. We sincerely hope you will visit SURA Korean BBQ Restaurant soon to experience this exciting adventure with us.
SURA Korean BBQ Restaurant Richmond
。。。。。。。。。。。。。。。。。
SURA Korean Royal Court Cuisine:
2017 Best Korean winner of Georgia Straight 20th Annual Golden Plates
2016 ‎Best Korean winner of Westender Best of the City Dining
2015 TripAdvisor® Certificate of Excellence
2014 Silver Korean winner of Vancouver Magazine's Restaurant Awards
2013 Best Korean winner of Vancouver Magazine's Restaurant Awards