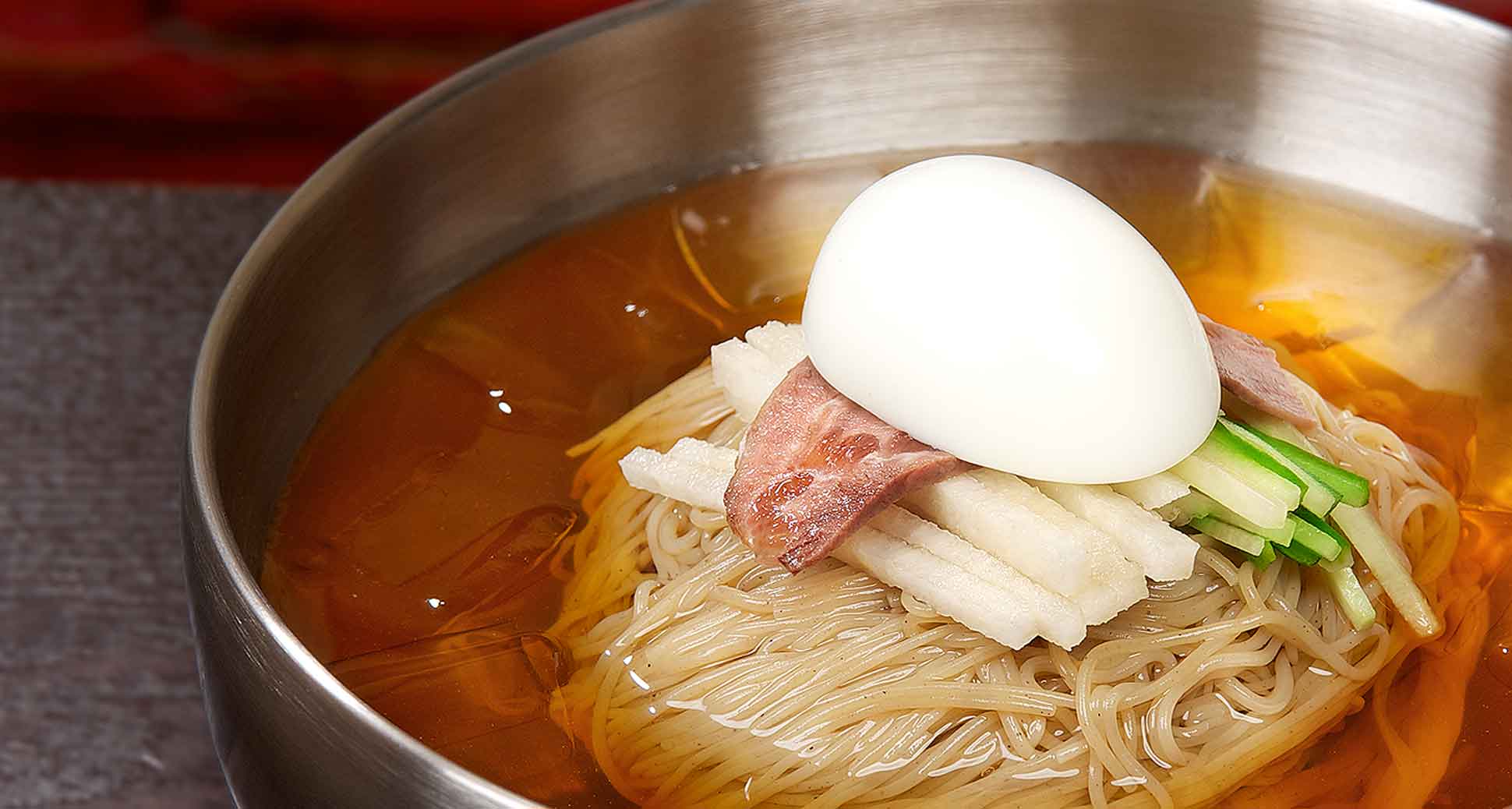 Naeng-myeon: For those sizzling hot Summer days
Looking for a simple, yet delicious noodle dish that cools you down but doesn't fill you up?
Today, SURA Korean BBQ Richmond introduces you to one of our favourite Korean meals for those sizzling hot summer days, Naeng-myun. No introduction might be needed because this dish is so well-known and greatly popular: Naeng-myun is a Korean cold noodle dish.
If you want to get a little more advanced, there's two types of Naeng-myun. There's Mul Naeng-myun, which literally translates as cold water noodles. Also there's Bibim Naeng-myun, and that one is a cold noodle dish served with a red chili paste. It's spicy, but sweet + spicy.
Our version of Mul Naeng-myun: proper cold noodle served in a tangy iced beef broth with cucumber, slices of Korean pear, and a slice of boiled egg. Mmmm… mouthwatering.
Sometimes this thin noodles in a iced beef broth dish can be difficult to eat because it's made with very long noodles, but our server will likely ask you if you want the noodles cut with scissors. Or simply we will serve you the dish along with a pair of scissor. Have it go for your linking!
After enjoying a bowl of this delicious Korean noodle dish, you'll know you can finally tell your friends that there's definitely more to Korean food than grilled meat and hearty stew!
Click HERE to view our awesome menu.
SURA Korean BBQ Restaurant Richmond
。。。。。。。。。。。。。。。。。
SURA Korean Royal Court Cuisine:
2018 Best Korean winner of Georgia Straight 21st Annual Golden Plates
2017 Best Korean winner of Georgia Straight 20th Annual Golden Plates
2016 ‎Best Korean winner of Westender Best of the City Dining
2015 TripAdvisor® Certificate of Excellence
2014 Silver Korean winner of Vancouver Magazine's Restaurant Awards
2013 Best Korean winner of Vancouver Magazine's Restaurant Awards