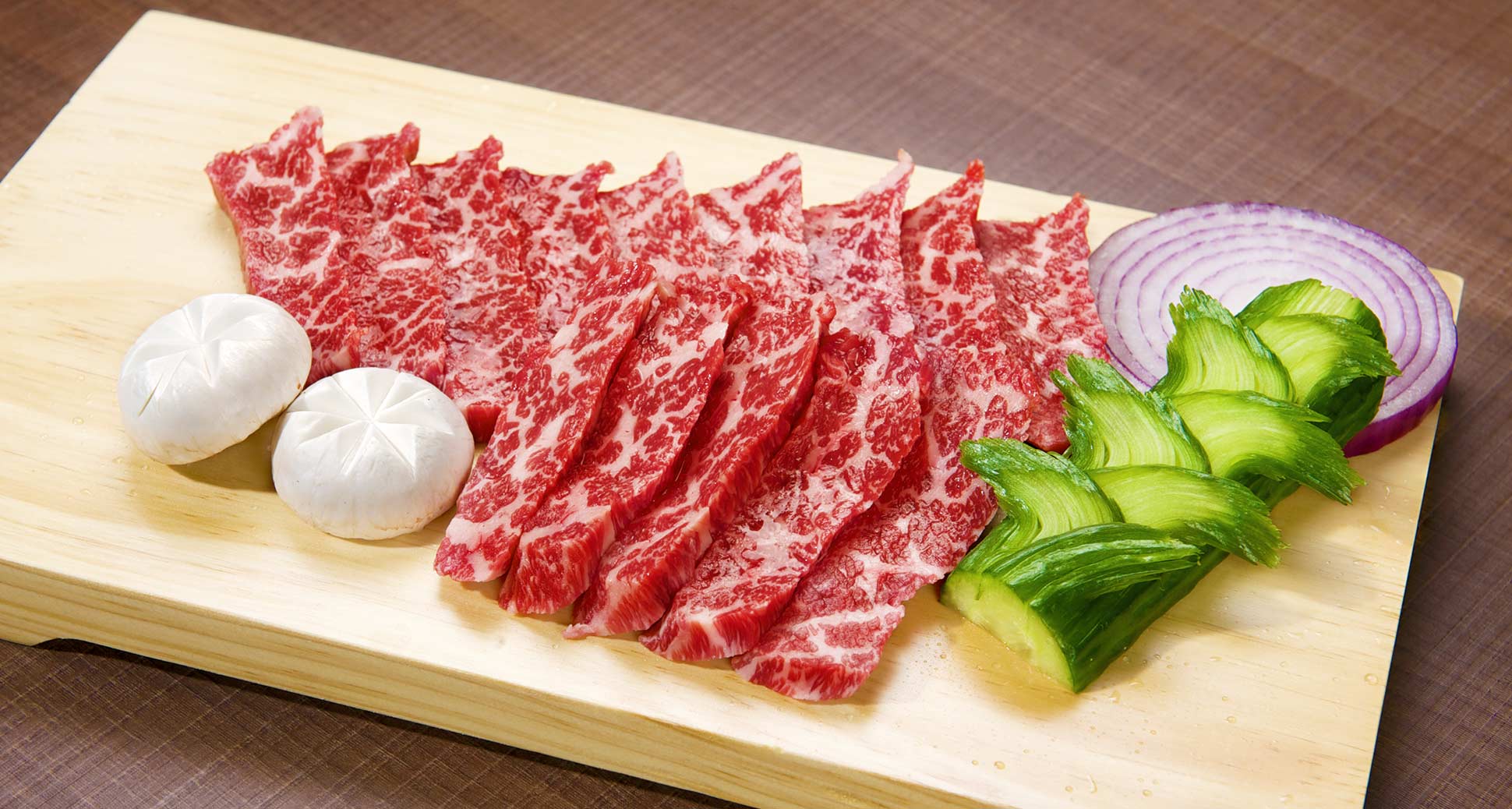 A guide to wonderful korean bbq
How well do you know about Korean BBQ which is arguably one of the best treats to BBQ lovers out there. Here is a guide to some of the most popular meat cuts in Korean BBQ, a list of popular beef and pork cuts we have put together that may come in handy when ordering Korean BBQ!
BEEF CUTS
Galbi-sal 갈비살
Thin strips of beef rib meat. This is perhaps the most popular beef cut all around, because people in S. Korea or now at the western regions have have been enjoying Korean Marinated Galbi BBQ. This cut is marbled and has a deep rich beef flavour. There is much higher quality Galbi-sal for well marbled texture and deeper beef flavour, which we at SURA calls Premium Royal Galbi.
Deung-sim 등심
Deung-sim is beef sirloin, and higher quality Deung-sim is called Kkot-deung-sim, which is flower marbled sirloin. These cuts are tender, juicy and have great marbling – especially Kkot-deung-sim is famous for its flower like marbling. All tend to be pricier than other beef cuts. But if you're aBBQ lover, you know it's worth the higher pricing!
Chadol-bag-i 차돌박이
Ultra thinly sliced marbled brisket, this cut is known for its heavy marbling and is usually sliced very thinly for grilling to not get an overpowering "fatty" taste. Chadol-bag-i is a great way to enjoy the marbled beef flavour without paying a premium price. Just remember; it cooks fast, so keep an eye on the meat when grilling!
PORK CUTS
Sam-gyeop-sal 삼겹살
The king of pork cuts is Sam-gyeop-sal, pork belly. This is by far the most popular pork cut and considered the quintessential Korean BBQ. There is a slightly different cut, called O-gyep-sal which includes the pig skin, hence this cut has the extra layers. The layers are created from tiers of fat and the taste is rich.
Pork Jowl 항정살
Thin meat strips from front park of the pork neck which are detailed cuts and very few portions come from one pig, which is why this cut is pricier than other pork cuts. This cut is a texturally quite different from other pork cuts. One could almost say it is chewy. What is special about this cut is that it has even marbling, making the meat very tender and juicy.
Moksal 목살
Neck meat or pork chop. Moksal is beautifully marbled, tastes great grilled and has a deep flavour. It typically comes in normal pork chop size and is then cut in into bite size pieces with a scissor as it is grilled.
Dwaeji Galbi-sal 돼지갈비살
Pork rib meat. Unlike beef rib meat, pork rib meat is mostly marinated before grilling. It is also braised. Tastes wonderful and a popular choice.
Click here to view our selection of Korean BBQ Menu.
Have you decided which cut you'd like to try at this coming BBQ cookout or the next dinning out at your Korean BBQ restaurant? Eat well and healthy, foodies!
SURA Korean BBQ Restaurant Richmond
。。。。。。。。。。。。。。。。。
SURA Korean Royal Court Cuisine:
2018 Best Korean winner of Georgia Straight 21st Annual Golden Plates
2017 Best Korean winner of Georgia Straight 20th Annual Golden Plates
2016 ‎Best Korean winner of Westender Best of the City Dining
2015 TripAdvisor® Certificate of Excellence
2014 Silver Korean winner of Vancouver Magazine's Restaurant Awards
2013 Best Korean winner of Vancouver Magazine's Restaurant Awards